Cloud CMS Instance Management
From version 2.3, Cloud CMS Instances will show a cloud icon which will display renewal information to logged in users.

Cloud CMS Instances can be viewed and managed from the Customer Portal. Once logged in to your account, click your email address to show further options:

Select My Products to show all the products you currently have.
Click on the Cloud CMS Instances card to manage all of your existing CMS Cloud Instances: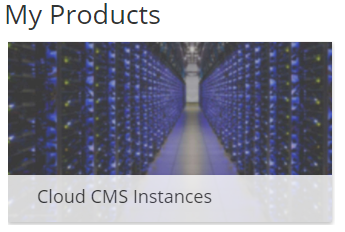 Here you can view all the available information,open a CMS, add and remove Display slots, configure settings, request upgrades, add new instances and delete the instance.
The last card on this page allows you to add a new Instance by clicking on the "Add CMS Instance" button.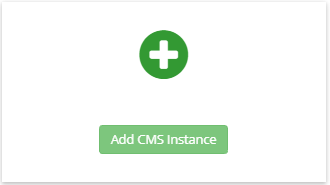 Each CMS Instance is represented with a card which shows basic information: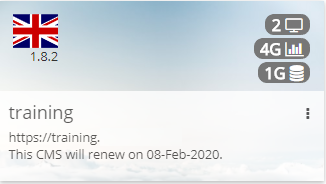 Flag to represent the hosting server, and CMS Version.
The CMS name, address and renewal date are also displayed.
Icons displayed on the right hand side of the card depict the following:

The current number of Display slots in this CMS Instance.


Monthly Bandwidth allowance


Storage
Click on the card to reveal actions that can be taken: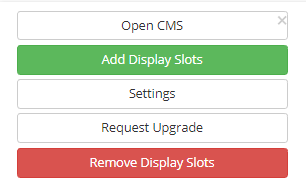 Open CMS
Click to be taken directly to the login page for your CMS Cloud Instance.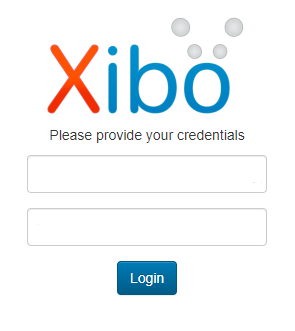 Add Display Slots
Click on 'Add Display Slots' and enter the additional number you require and click on Buy to take you through the billing process. Adding more display slots will increase your storage/bandwidth allowances.
Settings
Use the Settings tab to change settings regarding automatic upgrades and account renewal.
Automatically Upgrade this instance to new Minor Versions
This option is ticked by default as minor versions mostly contain bug fixes,improved security, changes that most users will benefit from.
Renew this CMS Instance when it expires
With this option ticked we will send you a renewal invoice 30 days before your CMS renewal date as a reminder to renew.
Request Upgrade
As new Xibo versions are released they are made available to all Xibo in the Cloud hosting customers and can be requested from here.
Remove Display Slots
Click to remove display slots which will immediately deauthorise any Displays that are over the new allocation. You must always have 1 slot active in each CMS Cloud Instance.
Delete
Deleting will immediately remove all library data and database. New backups will not be taken and the old ones will be removed according to our retention period. This action cannot be reversed.