Player Licence Management
Manage all your Player Licences from the Customer Portal by clicking on My Products
Click on the Player Licencing card to see all the Licence Pools that you own.
Click on a Licence Pool card to action further options: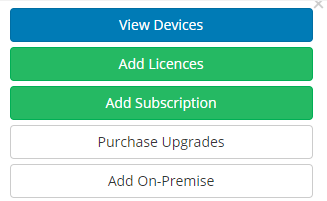 View Devices
This will show all the devices that are currently licensed against this Licence Pool. Once clicked a table will open to show further details including the Device Name, Version and Last licence check.
Options at the end of each row in this table allow you to:
Un-licence a device, removes devices that are no longer in use.

Move devices between permanent and rental licence pools which enables you to specify if your device should consume a subscription licence, or a perpetual licence. You may wish to do so if you want to take advantage of subscription licence included upgrades to newer versions for certain devices, or to licence 'temporary' devices from your subscription licence allocation.
Licence Pool Management
When viewing your Licence pool, you may see entries that have a Last check date older than 30 days. Players must check in with your Licence pool within a 30 day period to retain their licence. If they fail to check in within this period, the entry will still show in the pool but the Player will no longer be licensed and therefore no further updates will be made with regards to changes to Layouts and Schedules.
Manage your Licence pool by removing any entries that have a Last check date over 30 days, which are not using the On-Premise Module, by clicking the red bin icon at the end of the row for a device.
There is no need to remove devices which are expected to be turned off!
Add Licences
Additional licences can be added to an existing Licence Pool by clicking this button. A new window will open which will allow you to select the number of additional licences required and take you through the transaction process.
Add Subscription
This button allows you to add additional subscription licences to an existing Licence Pool. A new window will open which will allow you to select the number of additional subscription licences required and take you through the transaction process.
Purchase Upgrades
On clicking the Purchase Upgrades button a new window will open which allows for you to specify the Version and quantity of upgrades required for purchase and take you through the transaction process.
Once purchased you need to Upgrade your Players so that they will automatically migrate between Licence Pool versions and consume upgrade licences as necessary.
Please note: Licences are available for purchase at the 'latest version' and are automatically downgraded 1 previous major version. This results in an upgrade licence being issued which can be used for upgrading in the future.
Example Scenario:
A customer has a v2 CMS and some v2 Players and needs an additional licence. The customer purchases an additional licence, which currently means a v3 licence is issued. On using this licence to connect another v2 Player to the existing licence pool, it will automatically downgrade the purchased v3 licence to a v2 licence so that their device can be licensed. This situation will also issue a v2 - v3 upgrade so that the customer can upgrade in the future and use the licence on a v3 device with no additional charges.
If you need to downgrade to an even earlier version then please contact our Helpdesk for support.
Did you know that a Version 3 Player will communicate with an older CMS? A v3 Player can run in compatibility mode against an older CMS version such as 1.8, using a v3 licence.
We always recommend running a Player and CMS from the same series for the best results.
Add On-Premise
Click on this button to add the Module to your CMS to allow licensing from your Xibo CMS via file exchange. A new window will open which will detail the Terms and Conditions and take you through the transaction process. Once purchased, please refer to the On-premise Module page for activation information, from the left hand menu.