Installation Guide
Xibo for Android is released as a standalone "APK" installer file and can be downloaded from the Shop in our Downloads section. Xibo for Android is easy to install and configure and can be up and running in just a few minutes.
Please note: Xibo for Android requires a Xibo for Android software licence for each device you intend to run which is linked to a "Licence Pool email address".
This guide will take you through each step in detail for the installation, which includes the following stages:
Prepare your device
Download and Install the APK
Connect to your CMS
Configuration
Rooted Devices
Prepare your device
Non-market Sources
Xibo for Android is a non-market Android application, which means the device will need to be configured to allow the installation of applications from unknown sources. This setting is found in the "Security" section of the standard Android settings tab.
This setting should be disabled after installation unless auto-update is required (see Rooted Devices below for further information).
Enable the Wireless Adaptor
Xibo for Android will try to get the Mac Address of your Wireless Adaptor and record it in your CMS, but it can only do that if the Wifi Adaptor is enabled.
The first time you connect the Display you will need to have your Wireless Adaptor enabled. It is best to do this prior to installation so that you don't have to leave Xibo for Android during configuration. After your Display is connected to the CMS you can turn the Wireless Adaptor off (unless you are using it of course!).
Date and Time
Confirm that the Date / Time and Timezone information are correctly set on the device. This information is used by Xibo for Android for time sensitive scheduling and for the 14-day trial.
Please note: If the Date/Time is incorrect during installation your 14-day trial may expire sooner than it should.
Download and Install the Xibo for Android APK
Xibo for Android is released as an APK file which can be opened and installed by the Android OS. You will need to download or transfer the latest Xibo for Android release onto your device for installation. The easiest way to do this is to open using the Download link directly on the device and download the latest available release.
If you're using DS Devices DSC-J18 or J19 hardware (but NOT the DSCS9), then you should download the latest DS Devices version from the same link. It has tighter integration with the device hardware and gives "root" access without needing to first root the device.
With the above preparation complete you should have a device which can install non-market applications, with the Wifi Adaptor enabled, the correct Date/Time/Timezone and the latest Xibo for Android APK file on the device's storage.
Now open the APK file and allow the Android package manager to install the application.
Please note: From 1.8 R101 Xibo for Android requires at least a 4.4 based Android device.
Xibo for Android does require a number of permissions, which we have tried to keep to a minimum. Please accept the listed permissions and allow the installation to complete. Xibo for Android will now be available in your app drawer as normal.
Connect to your CMS
When you first open Xibo you will be taken to a connection wizard which asks for your CMS Address and Secret Key. Enter these details and click connect. You should expect the first successful connection to report "Display waiting licensing approval by an administrator".
Log into your CMS and navigate to the Displays page on the left-hand side Menu. The new Display will be listed, use the row menu and click Edit . Use the drop down menu for Authorise Display and select Yes.
On your Android display, click Connect again, the wizard should complete and take you to the next step to Licence your Display.
Next step for CMS 1.7 or later
If your CMS is 1.7 or later and you have provided a Licence Pool email address as a Settings Profile in the CMS, Xibo will start immediately and download its content from the CMS. If you have not provided a Licence Pool, you will be taken to a page asking for this information. If you are using the trial you can elect to "Skip" this step
Next step for CMS 1.6 or earlier
If your CMS is 1.6, you will be taken to a page asking for your Licence Pool email address. If you are using the trial you can elect to "Skip" this step.
After either activating your licence or skipping the trial, Xibo will start fully and download its content from the CMS.
Configuration
The configuration menu is accessible from the Player's action bar menu at the top of the screen, under the 3 dot menu button.
If you are connected to a 1.7 CMS or later then the majority of the settings are available for configuration in the CMS itself by creating a Display Profile for Android (which is where you can enter your Licence Pool email address).
Display Setting Profiles
Default Profiles have been provided for you. You only need to create a Profile if you want to override these defaults, or if you want to provide your Licence Pool email address to all of your devices centrally.
For more information on available settings, please see Android Player Settings and the Display Profiles section of the Manual.
Rooted Devices
An Android device that has been rooted can take advantage of the auto-update functionality (available in 1.7 R53 and later).
Please note: If you're using DS Devices hardware and have installed the DS Devices specific APK (as described in the installation steps above) then there is no need to root the device to take advantage of the automatic upgrade. You will need to ensure however that you always install/upgrade with the DSDevices specific version of Xibo for Android .
Requirements
Xibo CMS 1.6.1 or higher
Xibo for Android R53 or higher
Android 4.1 or higher | Android 4.4 or higher from 1.8 R101
Root access to the device (with SU or SuperUser installed)
Preparing the device
The device should be prepared with root access and a suitable root manager application such as SuperUser. It should also have Xibo for Android R53 or higher installed and configured. For further information and general instructions, please see Rooting a Device.
Granting Root Access
The Xibo application should be granted root access to the device, which is done from the Settings menu.
Clicking or pressing on "Check root is available" will open a popup window, as seen below will ask for a confirmation. At this point, Xibo will need permanent access to root so that no further user interaction will be required during the update process.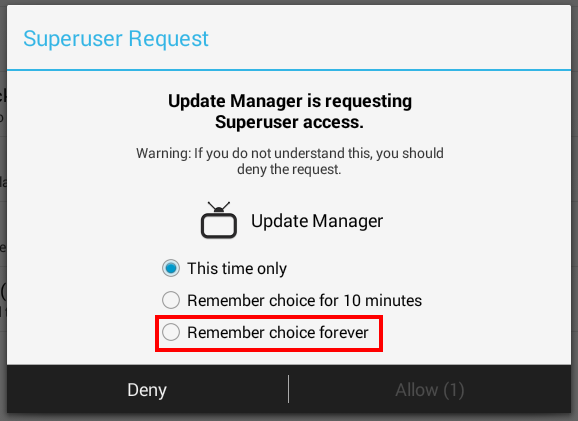 If the popup window does not open it means that root access is not configured correctly on the device.
After selecting "allow" a message will appear saying that super user access has been granted and the configuration for auto-update on the Player is complete.
SuperSu
If you are using SuperSu you should ensure that the "Re-authentication" setting is disabled. Failure to disable this setting will mean that the application will lose root access after any upgrade.
Setting an upgrade window
If you want to set a particular time for the player application to upgrade you will need to create a Display Settings Profile in the CMS and assign it to the Display.
For further information regarding Upgrades, please see Upgrading Xibo for Android.